Open navigation
Advanced Customer Loyalty Solution

Club Card Management - From Cashiers to Email
I this article we discuss a 'loyalty plan' type of customer club. That kind of club membership that gets the cashier to ask you "got a club card please?"
The innovation we feature here is personalized card benefits. This means an integration of the cashier point with email marketing platform. Thanks to this integration you can follow customer behaviour and send them personalized emails, with relevant offers that correlate to their off-line purchase.

All the information collected from these sources is saved and cataloged according to the location of the purchase, repeat behavior, purchase history, and more. In parallel, you define Engagement Levels or Reward Levels of club members (such as "Platinum", "Gold", "silver" etc).
Example: people who buy over a certain amount or over a certain frequency belong to level X. People who redeem over a certain amount of coupons belong to group Y, and so on.
Of course, the relationship with each customer in each of the groups will be different. He will receive different content in the newsletter, benefits that are relevant to him according to his purchase history, the branch location where he has made purchases, the relationship with this customer might differ in contact frequency, and more
Beyond Engagement Level segmentation, deploy more intelligent campaign management, according to:
Identification of customers at the time of purchase can "push notify" tailored promotions
Tracking inventory and surpluses to replenish sales points
Fulfillment of offers and benefits
Location-based deals and behavior history
Updated inventory and sales combined with the deals modules
And more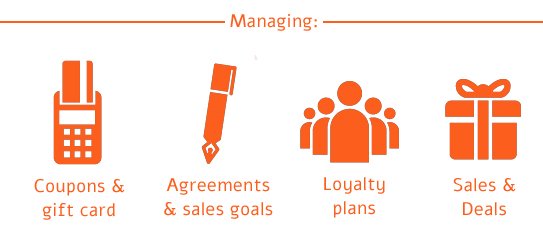 This is a platform fit for large enterprises, retail and wholesale companies that run with ERP.
At the same time, the system is easy to implement, for managing sales and business up to the point of sale, including cash registers and online stores all in one system.
For more information, please contact us