January, in short:
Biden's inauguration re-sets US relations with Israel and Palestinian Authority: US policy returns to support for a viable two-state solution
President Abbas signs official decree for Palestinian elections: New US administration and positive shift in Fatah-Hamas ties prompt significant step forward
Settlement expansion advanced by Israeli government: Includes retroactive legalization of outposts and publishing of tenders for Givat Hamatos in East Jerusalem, amid increased settler violence
These events increased the Two-State Index (TSI) by 2.9% (up 0.16 points from 5.38 in the previous month).
Biden takes office and a new era begins

The swearing-in of President Biden on January 20th began a new chapter of US relations with Israel and the Palestinians, and a return to explicit US support for a viable two-state solution. In his January 19th confirmation hearing, Secretary of State Antony Blinken stated that "the only way to ensure Israel's future as a Jewish, democratic state and to give the Palestinians a state to which they are entitled is through the so-called two-state solution." However, he cautioned that "realistically it's hard to see near-term prospects for moving forward on that," while also making clear that the US embassy would remain in Jerusalem and the Biden administration would seek to build on Israel's recent normalization agreements with Arab states.

Less than a week after Biden took office, acting US ambassador to the UN Richard Mills announced at a January 26th UN Security Council meeting that the administration would restore the relationship between the US and the Palestinians. Mills also reaffirmed support for a "mutually agreed, two-state solution" and called on Israel and the Palestinians to refrain from unilateral actions like annexation and settlement expansion, as well as incitement. While he welcomed Arab-Israeli normalization, Mills emphasized that it "is not a substitute for Israeli-Palestinian peace." The administration's initial actions will include the resumption of aid to the Palestinian Authority and UNRWA, and Mills said that the Biden administration would "take steps to reopen diplomatic missions that were closed by the last US administration." However, questions remain over the reopening of the US consulate in Jerusalem (which would require Israeli agreement) and PLO mission in Washington, DC (which faces various legal barriers).

Nonetheless, the Palestinians welcomed the move, with PLO official Ahmad Majdalani calling the announcement a "confirmation of [the Biden administration's] commitment to the peace process and to the return of bilateral relations with the Palestinians." This response reflects the Palestinians' desire to "return to the status quo that existed before Trump used a sledgehammer of political and economic policies with the aim of forcing Palestinians to surrender to US-Israeli dictates," wrote Palestinian political analyst Daoud Kuttab in Al-Monitor. Kuttab noted, however, that "this is a far cry from having a serious effort by Washington to move the peace toward a political breakthrough, which will require time and knowing the results of the upcoming Israeli and Palestinian elections."

Biden's team will include Hady Amr as the State Department's Deputy Assistant Secretary for Israeli and Palestinian Affairs, who previously served as Deputy Special Envoy for Economics and Gaza in the Obama administration. Another important player will be Julie Sawyer, appointed as Director for Israel-Palestine on Biden's National Security Council, a fellow veteran of former Secretary of State John Kerry's team under Obama. Both are highly familiar with the issue and can make significant contributions to a genuine peace process.

The new reality in Washington also offers an opportunity for Israeli proponents of two-state solution to gain new relevance, with the Palestinian issue now receiving more focus. A January Peace Index poll from Tel Aviv University found a rise in support among Jewish Israelis for a two-state solution, from 37% to 44%). The total number of Israelis supporting a two-state solution now stands at 52%.

Prior to Biden's inauguration, the foreign ministers of Jordan, Egypt, Germany and France met in Cairo on January 11th to discuss ways to revive the peace process. One week later, Egypt's President Sisi met with Jordan's King Abdullah in Amman, with a simultaneous meeting held between Egyptian, Jordanian and Palestinian intelligence chiefs in Ramallah, and another meeting in Paris expected to take place in March. These developments indicated a serious desire to facilitate Israeli-Palestinian diplomacy, and may signal a potential expansion of the Middle East Quartet (currently comprised of the US, UN, EU, and Russia), a prospect alluded to by UN Secretary General Guterres.

These developments increased the United States parameter from 5 to 7, and the Basic International norms parameter from 5 to 6.
Abbas moves Palestinians closer to elections

On January 15th, President Abbas issued an official decree to hold legislative elections on May 22nd, followed by presidential elections on July 31st and a reconstitution of the Palestinian National Council (the PLO's legislative body) on August 31st. Abbas moved forward after an exchange of letters with Hamas leader Ismail Haniyeh, in which the two committed to Palestinian reconciliation. Abbas also amended Palestinian election law to allow for the three separate elections, while abolishing a 2007 amendment that required candidates to recognize the PLO as the sole, legitimate representative of the Palestinian people.

After months of deliberation, Abbas' decision was clearly motivated by the arrival of the new US administration, and was meant to send a signal of Palestinian cooperation. However, skeptics highlighted the dangers of holding elections prior to achieving national reconciliation between Hamas and Fatah (with the latter itself divided into three factions), and neither side has offered any guarantee of a free and fair election, or committed to respecting its outcome. Furthermore, the outcome may depend on Israel allowing East Jerusalem Palestinians to participate, while also refraining from arrests of Hamas officials.

"If elections do take place despite the long odds, both sides are already taking practical steps to shape the conduct of the vote and, possibly, annul the outcome," warned Ghaith al-Omari, senior fellow at WINEP and former advisor to Abbas. "The Palestinian split is no longer simply a political rift, but a deeply entrenched institutional fact … [but] ending the split has consistently been a high priority for the Palestinian people, who blame both parties for its perpetuation in roughly equal measures."

Such motivation from the Palestinian public and a strong international push for elections – including substantial support expressed by the UN and the EU – may be enough to overcome the numerous obstacles to what would be the first Palestinian election since 2006. The reported consideration of a joint Fatah-Hamas electoral list, while unlikely to occur, is another positive sign. A meeting between the two sides in planned for next month in Cairo, which may provide further clarification.

The progress in Fatah-Hamas relations, along with Hamas' support for elections, increased the relevant parameters from 3 to 5 and from 4 to 5, respectively. In addition, the moves taken toward Palestinian elections moved up the PLO cohesion parameter from 3 to 4.
New settlement expansion announced as violent settler protests continue

Only days before Biden's inauguration, the Israeli Civil Administration approved 780 settlement housing units on January 11th – including the retroactive legalization of two illegal outposts – of which 714 (92%) would have to be evacuate under the Geneva Initiative (GI), according to Peace Now. On January 20th, the Ministry of Housing and the Israel Land Authority issued tenders for the construction of 2,572 new settlement units (including 460 in East Jerusalem). Peace Now assessed that 75% (1,946 housing units) of these would need to be evacuated under an agreement along the lines of the GI.

Perhaps even more significantly, a Jerusalem District Court judge reversed a decision to freeze the publication of tenders for construction of the East Jerusalem settlement of Givat Hamatos. In condemning the settlement announcements, representatives of 17 European countries including the UK, Germany, and France called for Israel to "permanently halt the tendering procedure for Givat Hamatos." Jerusalem expert Daniel Seidemann noted that "today, it's still possible to implement the Clinton Parameters in Jerusalem whereby Palestinian neighborhoods would be Palestine and Israeli neighborhoods would be Israel. After the construction of Givat Hamatos, that will no longer be possible."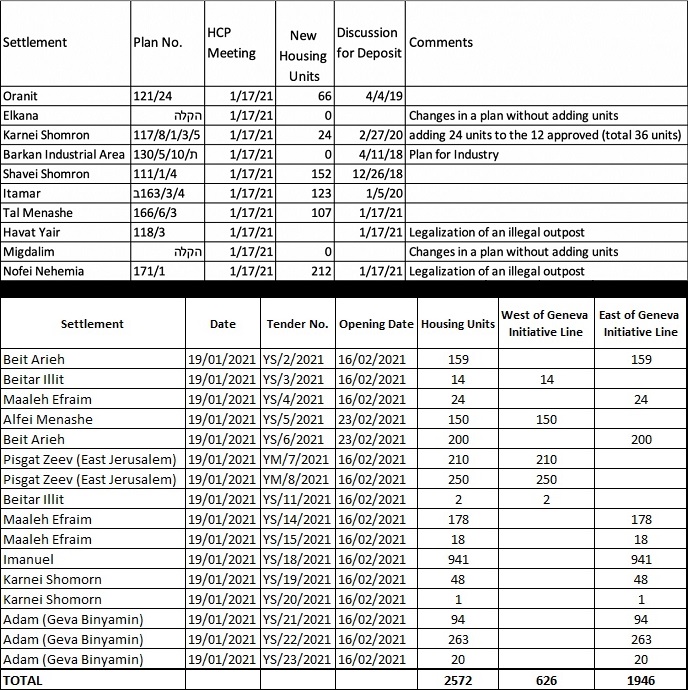 Settlements approved on January 11th (top) and January 19th (bottom)
Source: Peace Now
The timing of the announcements indicated that Netanyahu anticipates push-back from the Biden administration on settlement expansion, and may be a sign of things to come during the Israeli election campaign. Netanyahu also attempted to legalize at least six more illegal settlement outposts, but was blocked by Defense Minister Benny Gantz, who called the move "diplomatically irresponsible."

These developments came in the context of continued settler protests over the death of Ahuvia Sandak in a December car accident following a police chase. The protests were coupled with a notable increase in violence against Palestinians and Palestinian property, as well as Israeli security forces. On the other hand, a hunger strike protest to push for legalization of outposts, led by the Yesha Council of settler leaders, did not gain any traction and quickly fizzled out.

The announcements of settlement expansion and retroactive legalization of outposts decreased the relevant parameter from 6 to 5. Meanwhile, the spike in settler violence against Palestinians shifted the relevant parameter from 4 to 5.
The Two-State Index (TSI) is brought to you by the Geneva Initiative, a Palestinian-Israeli organization working to promote a negotiated peace agreement in the spirit of the two-state vision. The TSI is produced by an Israeli-Palestinian team, and reflects a unique bilateral perspective.
This publication was produced with the financial support of the European Union. Its contents are the sole responsibility of the Geneva Initiative's Two-State Index (TSI) editorial team and do not necessarily reflect the views of the European Union.