In the past few months, the Trump administration is attempting to redesign the Israeli-Palestinian landscape. After recognizing Jerusalem as the capital of Israel and relocating the American embassy there, the administration is targeting a second core issue: Palestinian refugees. As a first step toward ultimately dismantling UNRWA — the U.N. body tasked with providing humanitarian assistance to Palestine refugees — the United States has recently stopped its support of this agency. In addition, the United States is attempting to change the longstanding definition of Palestine refugees adopted by the international community and as a result drastically reduce their numbers.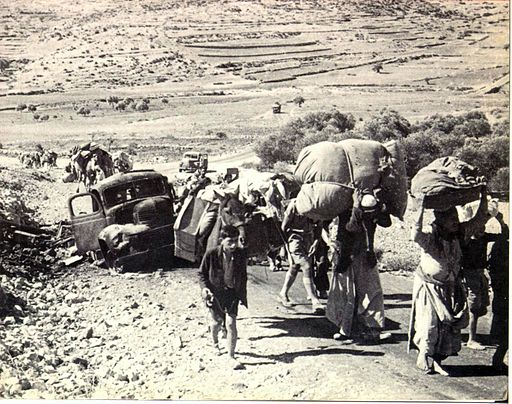 Palestinian Refugees, 1948
By Unknown author, via Wikimedia Commons
At the end of August, the U.S. State Department criticized UNRWA's "flawed operation and their business model and fiscal practices" as well as their "exponentially expanding community of entitled beneficiaries." The United States said it would consider "new models and approaches" of aiding the Palestinians served by UNRWA.

The European Union subsequently called on the United States to reconsider its decision, while urging UNRWA to carry out reforms and an unspecified "transformative process." UNRWA rejected the State Department's criticisms and pointed out that international parties have praised the U.N. agency's work.

In effect, the United States has cut $300 million of its $360 million support to UNWRA. The cuts, representing roughly a third of UNRWA's $1.1 billion yearly budget, threatened the delivery of UNRWA services; however, various countries including Qatar, the United Arab Emirates, Saudi Arabia, and India have contributed $238 million in extra funding. Together with prior contributions by Qatar, the United Arab Emirates, Saudi Arabia and India, UNRWA's funding deficit, exacerbated by the U.S. cuts, has been all but eliminated, and currently stands at $64 million (out of an initial deficit of $446 million).

American intentions aside, in order to achieve a faster and better deal between the Israelis and the Palestinians, the sequence of events is reversed. Leaving millions of Palestinians without basic humanitarian support can destabilize the already fragile situation in the West Bank and Gaza. The phasing out of UNRWA can only come as a result of a peace agreement (see below).
UNRWA, United Nations Relief and Works Agency for Palestine Refugees in the Near East, was established in December 1949 based on General Assembly resolution 194 (11) from 1948. Its records currently show 5.4 million registered refugees and it serves Palestine's refugees in its five areas of operation: Jordan, Lebanon, Syria, the Gaza Strip, and the West Bank (including East Jerusalem).

Operationally, it defines Palestine refugees as "persons whose regular place of residence was Palestine during the period 1 June 1946 to 15 May 1948, and who lost both home and means of livelihood as a result of the 1948 conflict." UNRWA's services are available to all those living in its areas of operation who meet this definition, are registered with the agency, and need assistance. The descendants of Palestine refugee — through the father line — are also eligible for registration as refugees. As a result of this definition, the number of registered refugees grew from 750,000 in 1949 to 5.4 million today.
Policy implications

Many Israelis believe that UNRWA perpetuates the Palestinian refugee problem to inflate the cost required from Israel for Palestinian concessions during negotiations; the more stateless Palestinian refugees register in UNRWA, the more compensation for the Palestinians.

By disbanding UNRWA, Israel and the United States hope to undermine the refugee issue. If they can eliminate UNWRA and with it the manner in which it defines refugees, the theory goes, their number will decrease significantly; refugee grievances and claims will follow suit.

Netanyahu called for handing over responsibility for Palestinian refugees to the U.N. High Commissioner for Refugees (UNHCR, the U.N. agency that deals with other refugees worldwide). Since UNHCR focuses on the stateless status of refugees, this would eliminate millions of Palestinian refugees who have by now gained citizenship (mostly in Jordan) or civil rights equivalent to citizenship.

Israelis believe that unlike UNRWA, UNHCR does not grant refugee status to descendants of refugees and that while UNRWA maintains Palestinian aspirations for repatriation into pre-1967 Israel, UNHCR focuses on local integration in host countries and resettlement in third countries.

Both beliefs are wrong. UNHCR considers a person a refugee as long as he/she is stateless, and consequently allocates refugee status to children of any refugee head of family. UNHCR also maintains that subject to political conditions, voluntary repatriation — the return of a person to his/her own country — "remains the most preferred solution in the majority of refugee situations." Notably, repatriation has become a norm in post-Cold War peace agreements.

Whatever effects the U.S. move will have on material services and legal definitions, the Palestinian refugee issue remains a contested core issue that only a negotiated agreement can resolve.

At the core of the Palestinian narrative lies what they call the Nakba, or catastrophe, focusing on the displacement of roughly 750,000 Palestinians during the 1948–49 war. Most Palestinians blame Israel for creating the Palestinian refugee situation as part of a longstanding disenfranchising Zionist policy dating back decades before Israel's independence. Central to Palestinian identity are the intangible symbolic demands for Israel's acknowledgement of its responsibility for depopulating Palestinian villages and — based on an array of international laws and norms, including U.N. General Assembly Resolution 194 — for the refugees' right of return to homes and properties left inside Israel.

Israel rejects the Palestinian narrative of the 1948 events. It points to the initiation of the war by Arab states and claims that the majority of Palestinians left by choice, expecting a quick Arab victory. Israel accuses the Palestinians and Arab states of exploiting the issue for political gain instead of resettling refugees. In addition to challenging the definition of refugees, Israel rejects the Palestinian claim for return rights to Israel; the possibility of millions of Palestinians moving to Israel would jeopardize the state's Jewish majority.

Some argue the parties may have better success in resolving intangible identity issues in a post-conflict environment. On the other hand, effective response to identity issues could allow more flexibility on the practical issues of residency and compensation.

Any solution for refugees will also need to address repatriation to the emerging Palestinian state, integration for refugees remaining in third countries, and resettlement in new countries. Most importantly, negotiators have debated a limited return of refugees to Israel. The sides disagreed over numbers and modalities: Israel's position varied over time, fluctuating between rejection of any return and accepting a limited return of up to tens of thousands of refugees as humanitarian gestures. Palestinians want Israel to accept greater numbers — hundreds of thousands — as symbolic return.

Negotiators have also outlined compensation modalities for refugees — for suffering and property loss. Palestinians want compensation to be open-ended and funded by Israel, while Israel demands that it be internationally funded via a one-time lump sum. Regardless, compensation is likely to be less than what refugees expect, raising the risk of a backlash among Palestinians. Estimates of total compensation vary widely and range between tens and hundreds of billions of dollars.
The Geneva Initiative

The Geneva Initiative published its model final status agreement in 2003. Chapter 7 deals with Palestinian refugees and outlines a solution that recognizes the centrality of the problem, points to rights of Palestinian refugees, and defines modalities for permanent place of residence (PPR), compensation, international role, and an end to refugee status and claims.

Concerning PPR, Geneva proposes the following five options:
The State of Palestine. This option will be a right of all Palestinian refugees and shall be in accordance with its laws.
Areas in Israel transferred to Palestine in a land swap, following the assumption of Palestinian sovereignty over these areas. This option will also be a right of all refugees.
Third countries, at their sovereign discretion and in accordance with refugee numbers each of them submits.
The State of Israel, at its discretion. As a basis for the number it will submit for absorption, Israel will consider the average of the total numbers submitted by the different third countries.
Present host countries, at their sovereign discretion.
Concerning compensation, Geneva outlines a 'fast' compensation track for per-capita dissemination of compensation for refugeehood, and an 'evidential' track that will deal with claim-based compensation for lost property. In addition, host countries will be compensated via large rehabilitation programs.

These modalities for residency and compensation will be managed by a newly formed international commission and will result in the phasing out of UNRWA, based on the end of refugee status in its area of operation. According to the Geneva Initiative model, UNRWA should cease to exist five years after the start of implementation, assuming it could help the implementation process.

Finally, the Geneva Initiative model outlines reconciliation programs that will promote the exchange of knowledge regarding historical narratives and a mutual understanding regarding the past.

The annexes of the Geneva Initiative were subsequently published and include elaboration on this solution, along with other final status issues.
Some recommended sources for additional information:
The Two-State Index (TSI) is brought to you by the Geneva Initiative, a Palestinian-Israeli organization working to promote a negotiated peace agreement in the spirit of the two-state vision. The TSI is produced by an Israeli-Palestinian team, and reflects a unique bilateral perspective.
This publication was produced with the financial support of the European Union. Its contents are the sole responsibility of the Geneva Initiative's Two-State Index (TSI) editorial team and do not necessarily reflect the views of the European Union.
Advertisement
This message was sent byTwo-State Index, H.L. Education for Peace, Geneva Initiative, 33 Jabotinsky rd., Ramat-Gan 525108, Israel, .
You may notify us, any time, for no charge, of your refusal to receive advertisements by sending a refusal message to the address TSI@genevainitiative.org
or by pressing the "unsubscribe" link at the bottom of the message.
To unsubscribe click here
Powered by Publicators